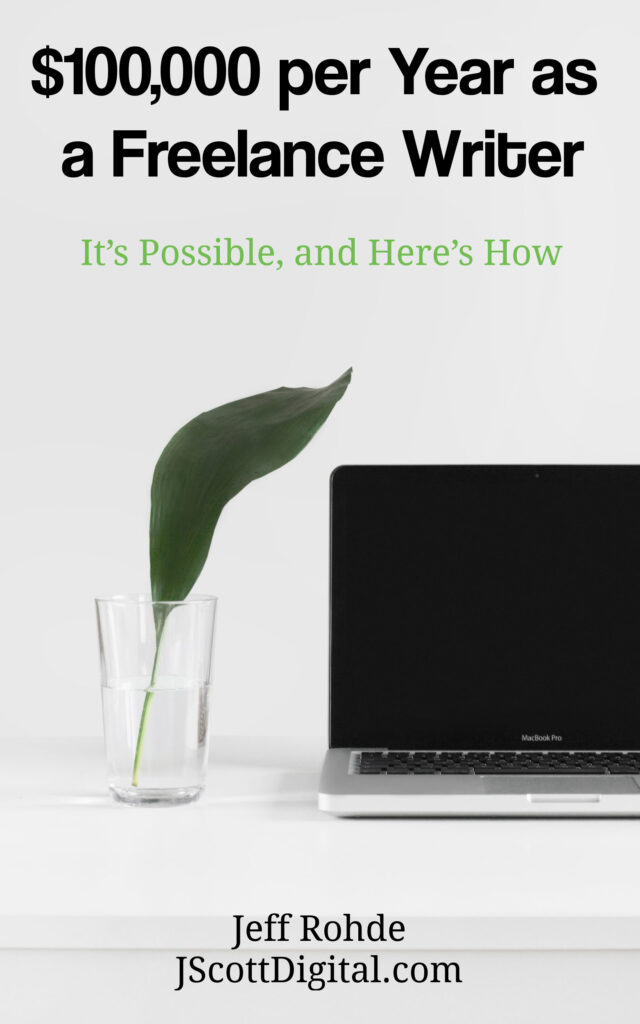 Jeff Rohde is an accomplished freelance writer and copywriter who regularly earns six figures per year from his craft. With over a decade of experience in the industry, Jeff has worked with clients across a diverse range of fields, including real estate, finance, investment, insurance, and accounting.
Jeff's professional writing career began with a successful blog about real estate investing, which caught the attention of major clients and led to regular contributions to financial websites. As his reputation grew, Jeff expanded his client base and continued to hone his skills as a versatile and expert wordsmith.
In "$100,000 per Year as a Freelance Writer: It's Possible, and Here's How," Jeff draws on his extensive experience to share practical insights and valuable tips that aspiring writers will find beneficial. He emphasizes the importance of building a personal brand, marketing oneself effectively, and fostering strong relationships with clients.
The book contains over 58,000 words of actionable information in 15 chapters:
Chapter 1: The Perks of Being a Freelance Writer
Chapter 2: From 9 to 5 to Six Figures: How To Transition From Your Day Job Into a High-Paying Freelance Writing Career
Chapter 3: Choosing Your Perfect Writing Niche
Chapter 4: Why Work for Cheap? How To Find Clients Who Are Willing To Pay What You're Worth
Chapter 5: Landing Your First Writing Gig: 10 Steps for Beginners
Chapter 6: Should You Work With an Agency or Go Directly to the Client?
Chapter 7: How To Find High-Paying Writing Jobs and Clients
Chapter 8: Fighting Lowball Offers and Negotiating Better Rates for Your Writing
Chapter 9: Tips for Keeping Your Clients Begging for More
Chapter 10: Simple Mindset Shifts To Help You Handle Rejection and Criticism
Chapter 11: Time Management Strategies for Freelance Writers
Chapter 12: Growing Your Freelance Writing Business
Chapter 13: You're Not Superhuman: How to Maintain a Healthy Work/Life Balance
Chapter 14: Diversifying Your Income: Why It's Important and How to Do It
Chapter 15: Why Freelance Writers Need Systems to Earn a Six-Figure Income
Conclusion: Secrets of the $100,000 Club: Joining the Elite Rank of High-Earning Writers
Jeff's portfolio is a testament to his expertise and versatility as a writer. He has tackled complex topics such as real estate investing, retirement planning, and accounting principles, and has crafted engaging copy for a variety of audiences. From blog posts and editorials to sales copy and white papers, Jeff has consistently provided high-quality content that resonates with readers and delivers results for his clients.
If you're looking to take your writing career to the next level, Jeff Rohde is a trusted advisor who can help you achieve your goals. He is among the top 3% of performers on Upwork and has been awarded the Top Rated Plus badge.
Buy $100,000 per Year as a Freelance Writer: It's Possible, and Here's How from your favorite bookseller today!
Amazon for Kindle
Books2Read for Apple, Barnes & Noble, Kobo, Scribed, and more sellers with both ebook and print editions
Payhip as a PDF