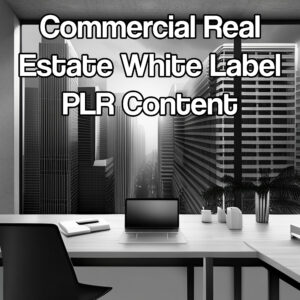 All white label PLR articles are delivered in a Word Doc format that you can edit and customize using any word processing software. Each article includes:
Licensing documentation
Tips for customizing your white label PLR content
White label PLR article with 10 alternative titles, article content, and 5 meta descriptions
It's also important to know that all white label PLR content purchased from us is non-exclusive and non-transferrable. You can learn more about our White Label PLR Content here and our Licensing and Terms of Use here.
White Label PLR Articles Available for Purchase
1. The Shift in Commercial Real Estate During a Recession
2. Investing in Commercial Real Estate: A Beginner's Guide
3. The Rise of Remote Work and Its Impact on Office Spaces
4. Understanding Real Estate Investment Trusts (REITs)
5. Predictions for the Commercial Real Estate Market
---
1. The Shift in Commercial Real Estate During a Recession
Excerpt
Navigating the choppy waters of commercial real estate during a recession can feel overwhelming, even for the most seasoned investors. Market shifts, plummeting property values, fluctuating rental rates – these are just some of the challenges that can turn lucrative investments into financial sinkholes overnight. But here's the truth: understanding these market shifts is not just crucial, it's non-negotiable for weathering the storm.
Recessions, while challenging, are not the end of the world for commercial real estate investors. In fact, they could present unique opportunities for those who know how to read the signs and adapt their strategies accordingly.
This blog post will arm you with the knowledge and tools you need to not only survive a recession but also seize potential investment opportunities that may arise. So, whether you're a seasoned investor or a newcomer to the commercial real estate scene, stick around. We're about to dig deep into recessions and their impact on your investments.
Outline
Introduction
The Impact of Recession on Commercial Real Estate
Historical Case Studies: Learning from the Past
Strategies for Navigating Commercial Real Estate During a Recession
Opportunities in a Downturn: Finding the Silver Lining
Preparing for Future Recessions: An Ounce of Prevention
Wrapping Up: Navigating Commercial Real Estate in a Recession
Word count: 2,215
Price: $22
---
2. Investing in Commercial Real Estate: A Beginner's Guide
Excerpt
Stepping into the world of commercial real estate investment, you're not just buying property; you're opening doors to a realm of opportunities. This form of investment, often overshadowed by its residential counterpart, has the potential to offer substantial financial rewards.
Commercial real estate investment revolves around properties that are used for business purposes—be it office spaces humming with brainstorming sessions, retail stores filled with eager shoppers, or warehouses storing goods that keep businesses running. The allure of this investment lies in its ability to generate income through rental rates, often higher than residential properties, and the potential for significant capital appreciation over time.
But don't be fooled. This isn't a get-rich-quick scheme. It's a strategic move for those ready to delve deep, analyze potential properties, and make informed decisions. It's about understanding the market, knowing when to take calculated risks, and, above all, patience.
As you navigate through this guide, remember that every commercial real estate journey is unique. There's no one-size-fits-all strategy. But with the right knowledge and tools, you can unlock the potential of this rewarding venture.
So let's dive in, shall we? Here's your roadmap to understanding and getting started in commercial real estate investment.
Outline
Introduction
Understanding Commercial Real Estate
Getting Started in Commercial Real Estate Investment
How To Analyze a Commercial Real Estate Deal
Financing Your Commercial Real Estate Investment
Risk Management in Commercial Real Estate Investing
Building and Managing Your Commercial Real Estate Portfolio
Conclusion: Charting Your Course Forward
Word count: 3,777
Price: $38
---
3. The Rise of Remote Work and Its Impact on Office Spaces
Excerpt
In the blink of an eye, your commute went from a 30-minute drive to a short walk to your home office. Just like that, the world of work as we knew it has transformed. Gone are the days when work was synonymous with a physical location, an office bustling with colleagues. Instead, we're embracing a new era where remote work is not just an option, but often the preferred choice.
This blog post digs into one of the most significant shifts in recent times – the rise of remote work. But our focus is not merely on the employees swapping their business formal attire for comfy loungewear or the companies saving massively on overhead costs. It's about a change that's much larger and far-reaching: the impact on office spaces.
As more and more people dial into video calls from their kitchen tables or home offices, the once buzzing office buildings are witnessing a steep decline in occupancy. This post explores the ripple effects of this shift, how it's changing the very definition of 'office space', and what it means for businesses, employees, and the commercial real estate market at large.
So, if you've ever wondered what's happening to all those empty offices or how the future of work is shaping up, you're in the right place. Let's dive in and explore this fascinating transformation together.
Outline
Introduction
The Rise of Remote Work
Impact on Office Occupancy
Transformation of Office Spaces
Benefits and Challenges of the Shift
Predictions for the Future
Conclusion: Adapting to the New Era: Embracing the Transforming Office Spaces
Word count: 2,472
Price: $25
---
4. Understanding Real Estate Investment Trusts (REITs)
Excerpt
Are you considering diversifying your investment portfolio? Or perhaps you're searching for a passive income stream that could offer potential tax benefits? Real Estate Investment Trusts, commonly known as REITs, might just be the answer.
REITs are a unique type of company that owns, operates, or finances income-generating real estate. They've been around since the 1960s and have grown significantly in popularity due to their potential for offering steady income streams, diversification, and long-term capital appreciation.
Understanding REITs is vital for any real estate investor – they can open doors to properties and markets that might be otherwise out of reach. Plus, they offer an easy way to invest in real estate without the need to become a landlord or deal with the complexities of property management.
In essence, REITs are like mutual funds for real estate. They allow anyone, even non-accredited investors, to benefit from owning real estate. That's why getting a grip on how REITs work can be a game-changer for your investment strategy.
But before you jump in, it's crucial to understand what REITs are, how they work, their advantages, potential risks, and most importantly, how to invest in them effectively. So get ready, because we're about to embark on a comprehensive journey into the world of REITs.
Outline
Introduction
What Are Real Estate Investment Trusts (REITs)?
Types of REITs
How Do REITs Work?
Advantages of Investing in REITs
Risks and Downsides of Investing in REITs
How To Invest in REITs
Factors to Consider When Choosing a REIT
Understanding REIT Dividends
Future of REITs
Conclusion: Unlocking Your Investment Potential With REITs
Word count: 3,616
Price: $36
---
5. Predictions for the Commercial Real Estate Market
Excerpt
In the ever-evolving landscape of commercial real estate, staying ahead of the curve is not just beneficial—it's essential. With seismic shifts in how we work, shop, and live, the impact on commercial properties is significant. This blog post is your compass, guiding you through the future trends that are shaping the office, retail, multifamily, industrial, and mixed-use sectors.
Why should you care about these trends? Because they represent opportunities for growth, innovation, and a chance to outpace the competition. By understanding these trends, you're arming yourself with the knowledge to make strategic decisions, whether you're an investor eyeing the next hot market or a business owner seeking to optimize your physical footprint.
So get ready as we dig into the future of commercial real estate—where it's heading, what's driving change, and how you can leverage these insights to forge a successful path forward. Let's explore this exciting terrain together.
Outline
Introduction
Office Spaces: Flexibility, Remote Work, and Sustainability
Retail Real Estate: A New Era of Experience and Balance
Multifamily Properties: Amenities, Technology, and Location Trends
Industrial Real Estate: E-commerce, Logistics, and Warehouse Trends
Mixed-Use Development: Live-Work-Play Communities and Urban Integration
Conclusion: Navigating the Horizon: The Future of Commercial Real Estate
Word count: 1,962
Price: $20
---
Have a Question or a Special Request?
We'd love to assist you further. If you have any questions or special requests for white label content, don't hesitate to reach out to us. We're here to help you find the perfect content solutions for your content creation needs.