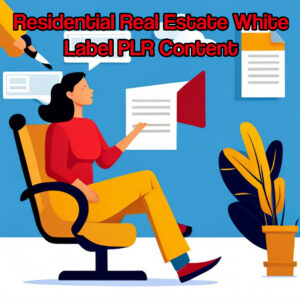 All white label PLR articles are delivered in a Word Doc format that you can edit and customize using any word processing software. Each article includes:
Licensing documentation
Tips for customizing your white label PLR content
White label PLR article with 10 alternative titles, article content, and 5 meta descriptions
It's also important to know that all white label PLR content purchased from us is non-exclusive and non-transferrable. You can learn more about our White Label PLR Content here and our Licensing and Terms of Use here.
White Label PLR Articles Available for Purchase
1. The Impact of the Recession on Residential Real Estate Market
2. Tips for First-Time Home Buyers
3. How To Invest in Rental Properties
4. Navigating the Current Housing Market: Buying vs. Renting
5. The Future of Homeownership: Trends To Watch
---
1. The Impact of the Recession on Residential Real Estate Market
Excerpt
A sudden drop in the stock market, businesses closing their doors, jobs disappearing – these are all telltale signs of a recession. And as you navigate through these challenging economic times, one question might be at the forefront of your mind: "What's going to happen to the residential real estate market?"
You're not alone in wondering what will happen, when, and how. As history has shown us, recessions can significantly impact the housing market, altering everything from home values to mortgage rates. Understanding these changes becomes crucial, whether you're an investor looking for opportunities, a homeowner concerned about your property's value, or a renter wondering about the future of rental prices.
In this blog post, we'll discuss how recessions impact the residential real estate market and what it means for you. By understanding these dynamics, you'll be better equipped to make informed decisions, safeguard your investments, and perhaps even find opportunities amidst the economic downturn.
Outline
Introduction
Understanding Economic Recessions
How Recessions Impact Residential Real Estate
Strategies for Navigating the Residential Real Estate Market During a Recession
Conclusion: Knowledge Is Power
Word count: 1,609
Price: $16
---
2. Tips for First-Time Home Buyers
Excerpt
Stepping into the world of homeownership can feel a bit like setting foot on an unfamiliar planet. But don't let the jargon or the process intimidate you.
You're not alone on this journey, and being a first-time home buyer doesn't mean you have to grope in the dark. With the right preparation and knowledge, you can navigate the twists and turns with confidence.
In this guide, we're going to break down the steps of buying your first home, from understanding your finances to making that final offer. We aim to arm you with the essential know-how, allowing you to make informed decisions every step of the way.
So let's dive right in and turn that dream of homeownership into reality.
Outline
Introduction
Understanding Your Finances
Getting Pre-Approved for a Mortgage
Finding the Right Real Estate Agent
House Hunting
Making an Offer and Closing
Post-Purchase Tips
Conclusion: Your Homeownership Journey Ahead
Word count: 2,471
Price: $25
---
3. How To Invest in Rental Properties
Excerpt
You're here because you've heard about the financial rewards that can come from investing in rental properties, right? Well, you're in the right place. In the world of real estate investment, rental properties are one of the most lucrative ventures, offering both a steady income stream and long-term growth potential.
But here's the catch: success doesn't just happen overnight. It requires careful planning, a good grasp of the market, and strategic decision-making. This is where knowledge and strategy come into play.
In this post, we'll take you through the ins and outs of rental property investment. From setting your goals to choosing the right property, securing financing, managing tenants, and even understanding the legalities involved, we've got you covered.
We promise you, by the end of this post, you'll have a solid foundation to start your journey in rental property investment. So, let's get started, shall we?
Outline
Introduction
Understanding Rental Property Investment
Setting Your Investment Goals
How To Choose the Right Rental Property
Financing Your Rental Property Investment
Understanding the Costs Involved
The Importance of Budgeting in Rental Property Investment
Finding and Managing Tenants
Legal Considerations
Risks and Challenges
Conclusion: Charting Your Course in Rental Property Investment
Word count: 3,507
Price: $35
---
4. Navigating the Current Housing Market: Buying vs. Renting
Excerpt
In the hustle and bustle of life, one question often looms large in our minds: should we take the leap and buy a home or continue to rent? The answer isn't as straightforward as you might think. With today's housing market being as unpredictable as it is, both options come with unique benefits and challenges.
You might be standing at this crossroads, weighing your options. On one hand, buying a home could mean building equity and enjoying the stability that comes with ownership. On the other, renting offers flexibility, less upfront costs, and freedom from maintenance responsibilities. It's a decision that requires careful consideration and hinges on factors like your financial situation, long-term plans, and the local housing market.
This post aims to guide you through this complex decision-making process. We'll dig into the pros and cons of buying versus renting, explore key factors to consider, and offer expert advice. By the end of this read, you will be better equipped to make an informed decision – one that aligns with your lifestyle, goals and financial reality.
So, whether you're dreaming of owning a cozy cottage or are content living in a chic city apartment, let's embark on this journey together to discover what's best for you in the current housing landscape.
Outline
Introduction
Understanding the Current Housing Market
Pros and Cons of Buying a Home
Pros and Cons of Renting a Home
Key Factors To Consider When Deciding To Buy or Rent
Expert Advice: Navigating the Decision to Buy or Rent
Conclusion: Your Next Move
Word count: 2,435
Price: $25
---
5. The Future of Homeownership: Trends To Watch
Excerpt
Welcome to the future of homeownership – a landscape that's rapidly transforming right before our eyes. If you're a prospective homebuyer or real estate investor, these changes are more than just headlines; they're the signposts guiding your next big decisions.
You might be wondering, "What exactly is changing?" Well, the answer lies in the shifting patterns of where and how people are choosing to live. The rise of remote work has sparked a migration from bustling cities to serene suburbs and even quaint small towns. People are not only seeking space but also sustainability, with eco-friendly homes becoming the new norm. The way we buy homes is evolving too, thanks to technological innovations in the real estate industry.
In addition, the very demographics of homebuyers are undergoing a transformation, influencing market trends in significant ways. And amidst all this, the call for affordable housing grows louder, shaping investment strategies and buying choices.
So, whether you're planning to buy your first home, invest in a property, or simply keep a pulse on the market, understanding these trends is crucial. They're not merely shaping the future of homeownership – they are the future.
Get ready, because we're about to take a deep dive into what these trends mean for you.
Outline
Introduction
The Rise of Remote Work and Its Impact on Homeownership
Increasing Importance of Eco-Friendly Homes
Technological Innovations in Real Estate
Changing Demographics and Homeownership
The Shift Towards Affordable Housing
Conclusion: Navigating Tomorrow's Homeownership Landscape Today
Word count: 2,247
Price: $22
---
Have a Question or a Special Request?
We'd love to assist you further. If you have any questions or special requests for white label content, don't hesitate to reach out to us. We're here to help you find the perfect content solutions for your content creation needs.