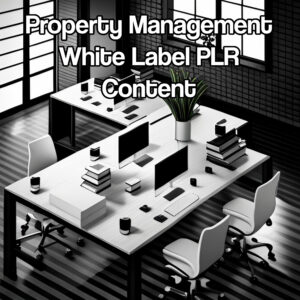 All white label PLR articles are delivered in a Word Doc format that you can edit and customize using any word processing software. Each article includes:
Licensing documentation
Tips for customizing your white label PLR content
White label PLR article with 10 alternative titles, article content, and 5 meta descriptions
It's also important to know that all white label PLR content purchased from us is non-exclusive and non-transferrable. You can learn more about our White Label PLR Content here and our Licensing and Terms of Use here.
White Label PLR Articles Available for Purchase
1. The Role of a Property Manager: An Overview for Landlords and Investors
2. Tenant Relations 101: Maintaining a Positive Landlord-Tenant Relationship
3. Rent Collection Strategies for Landlords
4. Dealing With Maintenance and Repairs: 10 Tips for Landlords
5. Property Inspections: Best Practices for Landlords
---
1. The Role of a Property Manager: An Overview for Landlords and Investors
Excerpt
If you're a landlord or real estate investor, juggling tenant issues, maintenance tasks, and financial responsibilities can feel like a constant uphill battle. Wouldn't it be great to have someone take some of that burden off your shoulders? That's where property managers come in.
Property management is not just about collecting rent and fixing leaky faucets. It's about maintaining and enhancing the value of your investment while ensuring your tenants are satisfied and cared for. This blog post will walk you through why property management is crucial for landlords and investors, the key roles and responsibilities of a property manager, and how to find and hire the right one for your properties.
So if you're ready to take your real estate investments to the next level, keep reading. This could be the game-changing information you've been seeking.
Outline
Introduction
Understanding Property Management
Why Landlords Need Property Managers
Key Qualities To Look For in a Property Manager
How To Find and Hire a Good Property Manager
Potential Drawbacks and How to Mitigate Them
FAQs
Conclusion
Word count: 2,721
Price: $27
---
2. Tenant Relations 101: Maintaining a Positive Landlord-Tenant Relationship
Excerpt
Your rental property isn't just a business. It's a home, a community, a space where memories are made. As a landlord, you play a crucial role in shaping that experience for your tenants. Cultivating a positive landlord-tenant relationship isn't just about making your tenants happy—it's key to the success of your rental business.
In this post, we'll explore the importance of understanding your tenant's perspective, mastering clear communication, providing responsive and timely maintenance, respecting privacy, offering fair and transparent rent and lease agreements, and handling disputes gracefully. All these elements contribute to building a sense of community that enhances tenant satisfaction and allows your business to thrive.
So, whether you're a seasoned landlord or just starting out, this guide will provide you with practical strategies to maintain a positive landlord-tenant relationship. Stay tuned as we delve into these topics and more, arming you with the knowledge you need to create a better rental experience for both you and your tenants.
Outline
Introduction
Understanding Your Tenant's Perspective
Clear Communication Is Key
Responsive and Timely Maintenance
Respect for Privacy
Fair and Transparent Rent and Lease Agreements
Building a Sense of Community
Handling Disputes Gracefully
Conclusion
Word count: 3,122
Price: $31
---
3. Rent Collection Strategies for Landlords
Excerpt
Ever found yourself at the end of the month, anxiously checking your bank account for rental payments that haven't arrived yet? If you're a landlord, this scenario is all too familiar. Efficient rent collection isn't just a minor detail in property management; it's the lifeblood that keeps your business running smoothly.
The challenges of rent collection are real and multifaceted – from tenants who perpetually pay late to those who seem to vanish off the face of the earth when rent is due. And let's not even get started on the legal complexities and potential pitfalls of dealing with non-payment.
But what if we told you there are strategies to turn this stress-inducing task into a streamlined process? Strategies that not only help ensure timely rent collection but also foster positive landlord-tenant relationships? Yes, it's possible, and this blog post will guide you through it.
From understanding your legal rights to leveraging technology, we'll walk you through effective rent collection strategies that every landlord should know. By the end of this post, you'll be equipped to tackle rent collection with confidence and efficiency, keeping your cash flow consistent and your tenants satisfied. So, let's dive in and transform your rent collection process!
Outline
Introduction
Understanding Your Legal Rights and Responsibilities
Setting Clear Expectations
Establishing a Consistent Collection Process
Offering Multiple Payment Options
Implementing Late Fees and Grace Periods
Dealing with Non-Payment and Evictions
Leveraging Technology for Rent Collection
Building Positive Landlord-Tenant Relationships
Conclusion
Word count: 3,006
Price: $30
---
4. Dealing With Maintenance and Repairs: 10 Tips for Landlords
Excerpt
As a landlord, the condition of your rental properties is undoubtedly your top priority. And it's not just about preserving the aesthetic appeal or the market value of your investment—it's about fulfilling your responsibility to provide a safe and comfortable living environment for your tenants. That's where effective maintenance and repairs management comes in.
This might seem like a daunting task, especially when you're juggling multiple properties or dealing with a series of unexpected breakdowns. But don't worry, that's exactly why we've put together these 10 practical tips. From regular inspections to leveraging technology, this article will provide you with essential techniques to streamline your maintenance process and minimize tenant complaints.
Without further ado, let's delve into these actionable insights that can make property maintenance and repair less of a chore and more of a well-oiled machine.
Outline
Introduction
Regular Property Inspections
Understand Your Legal Obligations
Build a Reliable Repair Team
Prioritize Preventative Maintenance
Prepare for Emergency Repairs
Set Aside a Maintenance Budget
Communicate Effectively With Tenants
Leverage Technology for Maintenance Management
Keep Accurate Records and Documentation
Maintain a Healthy Landlord-Tenant Relationship
Conclusion
Word count: 3,412
Price: $34
---
5. Property Inspections: Best Practices for Landlords
Excerpt
When it comes to managing rental properties, there's one task that often causes a fair amount of apprehension: property inspections. You might be thinking, "Why should I bother?" or "Isn't this just an unnecessary hassle?" But here's the truth – property inspections are more than just a walk-through of your rental unit.
They're an essential component of successful property management. Property inspections offer you, the landlord, a critical opportunity to assess the condition of your property, catch minor issues before they become major headaches, and ensure that your tenants are meeting their obligations.
In fact, regular property inspections can save you money in the long run by preventing expensive repairs and maintaining the value of your property. They also help you build a positive relationship with your tenants, which can lead to longer tenancy periods and fewer vacancies.
But how do you conduct a property inspection effectively? What are the best practices to follow? And what are the legal aspects you need to be aware of?
In this blog post, we'll guide you through the entire process step-by-step, offering practical tips and insights to ensure your property inspections are as efficient and beneficial as possible. Exciting, isn't it? Let's dive right in.
Outline
Introduction
Understanding Property Inspections
The Legal Aspects of Property Inspections
Preparing for a Property Inspection
Conducting the Property Inspection
Post-Inspection Process
Best Practices for Property Inspections
Property Inspections, Maintenance, and Value Preservation
Conclusion
Word count: 2,718
Price: $27
---
Have a Question or a Special Request?
We'd love to assist you further. If you have any questions or special requests for white label content, don't hesitate to reach out to us. We're here to help you find the perfect content solutions for your content creation needs.